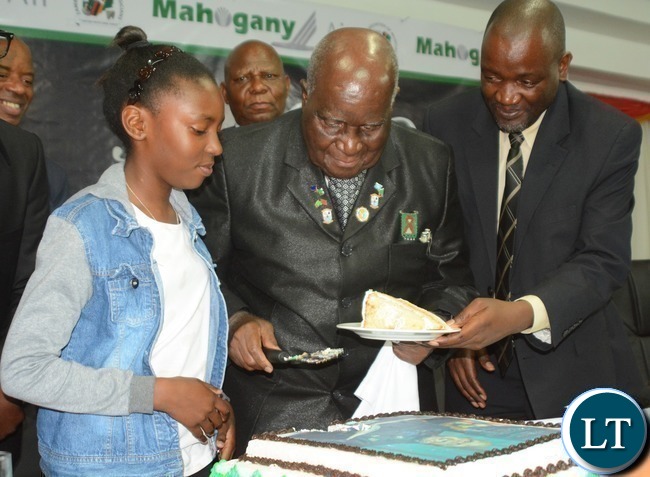 State House has dispelled reports that Zambia's founding President Kenneth Kaunda has died.
Online reports emerged mid day on Thursday that Dr Kaunda, 93, had died in hospital.
But President Edgar Lungu's Special Assistant for Press and Public Relations Amos Chanda said Dr Kaunda is alive and still admitted in hospital.
"Former President HE Kenneth Kaunda was admitted to the university teaching hospital to be treated for a minor ailment. He was rehydrated and judged well and stable enough to be discharged," Mr Chanda said in a statement.
"But he has been kept in hospital longer than necessary to take advantage of this admission and make him undergo to a routine medical screen after which he is expected to be discharged later today or tomorrow."
Mr Chanda added, "His minders reported that the former President appeared weak prompting the minister of health to deploy a specialist medical unit to check on him at his residence."
+13

0

vote

Good to hear. Long live our father of the nation.

+8

0

vote

Long live Dr David Kenneth Kaunda

+4

0

vote

Fake News is pervasive and purveyors of it are sick and sad people!

+2

-3

vote

So many healthy people die at UTH. A man in my village went to UTH to cut his index finger nicely, from fishing frick accident. I saw the finger. He took bus. He never came back by bus.

+2

-3

vote

Please KK don't leave us under PF. Even funeral can be a mess. Did you see how they behaved on sata? Thank God the Catholic too over.
And why it that it's State house shouting and not the Cabinet Office?

+5

-3

vote

Why Statehouse are hiding the truth is beyond me.

Great man he was RIP

Thanks

BB2014,2016

vote

Atleast something positive. Good. Keep us updated and ensure good care of the big man KK.

+1

-1

vote

He put ZAMBIA on the world map and a lot more.Problem he was human but some people wanted to deify him.
Continue fighting KK

+5

0

vote

But why should people spread such lies? Unfortunately the gullible are too many

+2

0

vote

Larry Mweetwa AKA NEZ thrives in such news.

+2

-2

vote

(HH) is dead – UPND Media

+3

0

vote

This happened at midnight when his own saboteurs mistakenly set Kabwe's Mukobeko Maximum Prison ablaze.

+1

0

vote

It is true. I heard it from an uncle who works in the Prisons services. The government is hiding the story because of fear of Armageddon

+1

-1

vote

why bring in HH but no word on mushota s comment above,typical cadre mentality.paid bloggers.wishing KK quick recovery.

+3

0

vote

Get well soon Super Ken…God bless you and grant you his grace.

+3

0

vote

Amazing that some evil people in Zambia thrive in peddling negativity and fake news.

0

-5

vote

KK I'm not happy with u. I personally lost my family during Lenshina period. You sent soldiers to go and kill my people in Chinsali.

The blood of my people are still crying. What is more painful is that u are not even Zambian but killed many zambians.

vote

Let by gones be by gones
Forgive 70 × 7= 490 times
You need repentance you cruel soul

vote

you are a stupid *****. how dare you accuse Dr Kaunda of killing your family.you will be traced and arrested.

+6

0

vote

Dear KK,
Wish you well and a peace of mind, sir. I've met a good number of men and women, mostly elderly here in UK who, upon discovering I am a Zambian, fondly remember the symbolism of your white handkerchief. This includes an elderly lady who fondly remembers your sermons at St. Pauls' Cathedral where you shared your signature message "Man black, man white, man blue, man green, man east, man west, it does not matter…. Man is man created in the image of God Almighty". Some with tears in their eyes. The recital speaks for itself. Very humbling. Yes, on balance you have fought a good fight, and ran a good race. I wish you peace of mind as you go through the twilight of your life, sir.
--
Disclaimer:Everyone posting to this Forum bears the sole responsibility for any legal consequences of his or her postings, and hence statements and facts must be presented responsibly. Your continued membership signifies that you agree to this disclaimer and pledge to abide by our Rules and Guidelines.To unsubscribe from this group, send email to: ugandans-at-heart+unsubscribe@googlegroups.com
Source