THE SAME OLD SHIT BAG; DIFFERENT TRADEMARK!!!! EVIDENTLY, IN AFRICA IT MUST TAKE SEVERAL GENERATIONS TO TAME THE ANIMAL IN MAN!
Nairobi, Kenya (CNN)
Kenyan opposition leader Raila Odinga is disputing early results in the country's presidential election that put his long-standing rival, incumbent President Uhuru Kenyatta, ahead.
The
election commission's website
showed that with 94% of stations reporting, Kenyatta was leading with 54.4% of the votes to Odinga's 44.74%. Eight candidates were in the running for the presidency but no other challengers have received more than 0.3% of votes.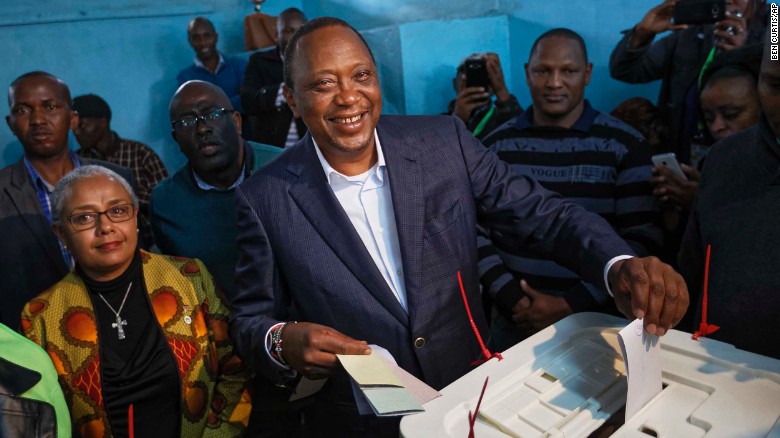 Kenyatta casts his vote alongside his wife Margaret on Tuesday.
Final results from Kenya's Independent Electoral and Boundaries Commission (IEBC) are expected to be released in the coming days -- officially, the agency has a week to declare -- but it appears Kenyatta, who leads the Jubilee Alliance, is on track for an outright win, which requires one vote more than 50%.
But in a televised news conference on Wednesday morning, Odinga, a 72-year-old former political prisoner, flatly rejected the preliminary results as "fictitious" and "fake" while arguing that the election authority's systems had been "hacked" to manipulate the results in his rival's favor.
"What the IEBC has posted as results of the Presidential Elections is a complete fraud based on a multiplier that fraudulently gave Uhuru Kenyatta votes that were not cast," he said in a series of tweets.
"We have uncovered the fraud. Uhuru must go home. The IEBC must be fully accountable," he added.
In response to Odinga's claims, IEBC chairman Wafula Chebukati said it appears the opposition's issues stem from results transmission rather than with the whole election. He reminded voters that the results being displayed online are not final figures.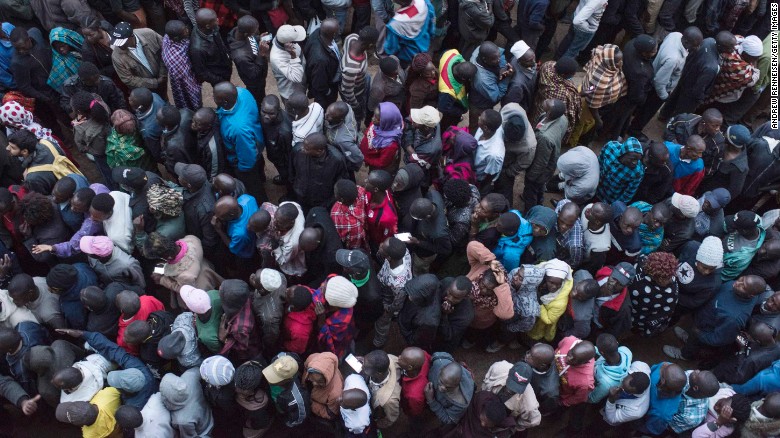 Voters line up at a station in Kibera area of Nairobi.
Kenyan law states that electronic reporting must be double-checked and verified by physical paper forms from polling stations before the IEBC can declare a winner. Chebukati said the voting authority intends to uphold that requirement.
"We set up a system which has carried us through and when Kenyans went to vote, it worked for them, it worked for us -- the IEBC," he said.
"The system is set up to do results transmission but we have had concerns raised and we cannot as a commission ignore those concerns. We want to look at the original forms, verify and at the end of the day, do an audit and those [hacking] questions will be answered."
The Kenya Human Rights Commission, too, denounced the "unverifiable results" which if left unaddressed could "create serious political instability."
The statement from the independent organization included several examples of discrepancies between the preliminary results on the IEBC website and the original paper copies signed by party agents at various polling stations.
Over 400 international election observers -- including officials from the US and the European Union -- were deployed across the country to monitor voting, the tallying process and some of the post-election period.
A EU overseas mission monitor told CNN the group would present their preliminary findings at a press conference on Thursday.
Fears of violence
Nairobi remained calm and quiet Wednesday morning, a stark contrast to the droves who turned out in the rain on Tuesday, lining up for hours to cast their ballots.
Tuesday's election was a peaceful and enthusiastic affair with a huge turnout and a few minor delays and technical issues reported. Several polling stations that were affected by delays were kept open until almost midnight to ensure that all could vote.
But Odinga's complaints of election irregularities have stoked fears of aggrieved supporters taking to the streets in a scenario reminiscent of 2007's post-election violence.
More than 1,000 people were killed in months of ethnic violence in the aftermath of the 2007 vote when Odinga -- defeated by then-President Mwai Kibaki -- also claimed the vote was rigged.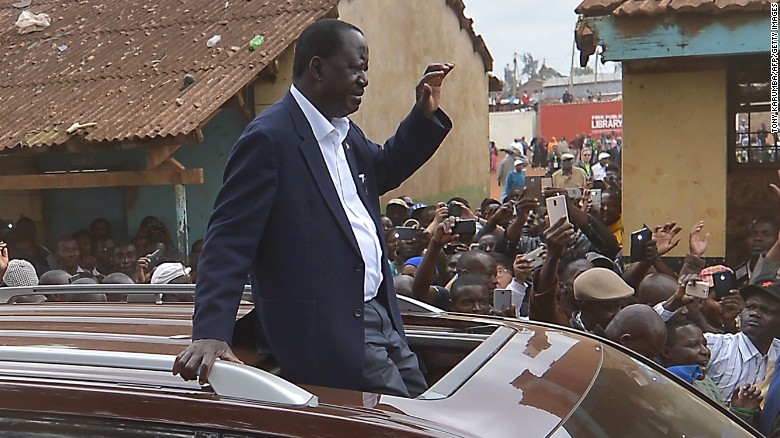 National Super Alliance presidential candidte Raila Odinga arriving at Old Kibera primary school to cast his vote on Tuesday.
As Odinga cried foul on Wednesday, reports were emerging of pockets of protests in three opposition strongholds. In the Kondele area in Kisumu, a local journalist told CNN that riot police were on the scene engaged in "running battles" with a group of around 500 to 600 "agitated youths."
Broken up into smaller groups of 30-40, the protesters were chanting "Uhuru must go." A police helicopter was also on patrol in the area and water cannons have been deployed.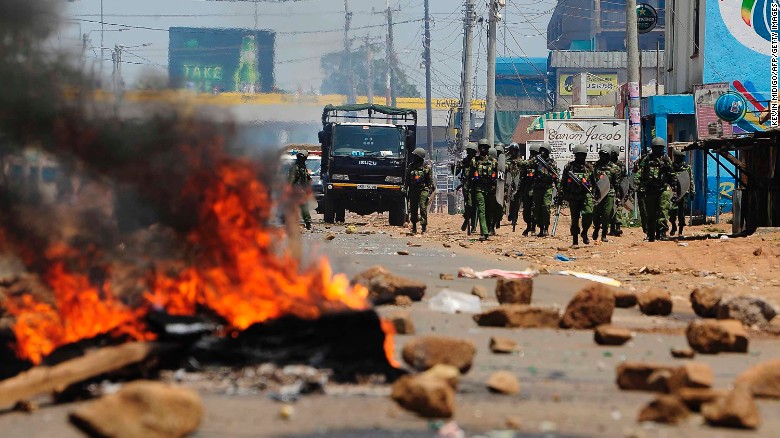 Kenyan security personnel walk towards burning tire barricades on a road in Kisumu after clashes between opposition support and police on Wednesday.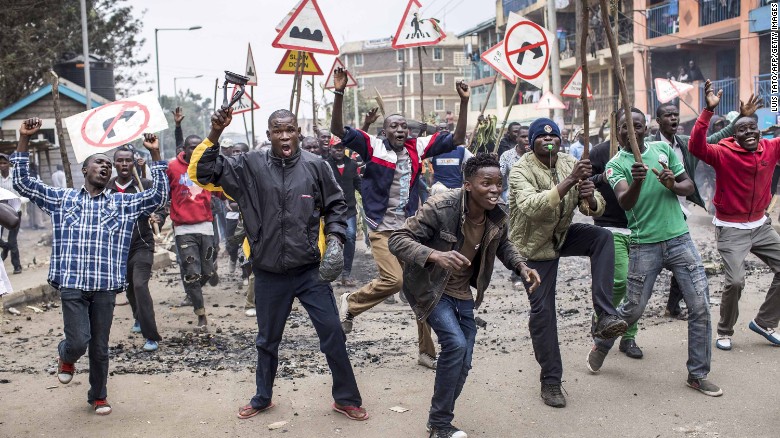 Opposition demonstrators carrying road signs shout and gesture in the Mathare slums of Nairobi on Wednesday. Odinga's hacking claims have ratched up tensions in his strongholds.
In Mathare, a slum on the outskirts of Nairobi, an eyewitness said another group of around 40 youths was protesting and described the atmosphere as "tense." The local resident added that police were yet to arrive on scene.
And in the Kibera slum in Nairobi, an eyewitness said, "Tension is high ... Kibera is calm but not sure for how long."
The IEBC and opposition have urged voters to "maintain the peace" while the final results are being tabulated.
CNN's Dominique van Heerden, Briana Duggan and Farai Sevenzo contributed to this report from Nairobi while Lauren Said-Moorhouse wrote from London.
I DO NOT LIKE THE RESIGNED FRUSTRATION ON ODINGAS FACE
"WE FORM THE CULTURE THAT FORMS US"….noc'la gaumoy.
Den onsdag, 9 augusti 2017 13:49 skrev Gook Akanga <grakanga@gmail.com>:

--
Disclaimer:Everyone posting to this Forum bears the sole responsibility for any legal consequences of his or her postings, and hence statements and facts must be presented responsibly. Your continued membership signifies that you agree to this disclaimer and pledge to abide by our Rules and Guidelines.To unsubscribe from this group, send email to: ugandans-at-heart+unsubscribe@googlegroups.com
Source